Call us toll free (866) 451-2050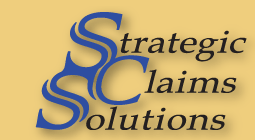 Biographies
The Strategic Claims Solutions staff has tremendous depth – serving as a valuable resource to employers, insurance carriers, attorneys and third party administrators. Our team has saved millions of dollars for our clients over the years and continues to offer our clients top-notch customer service.
Debbie Moscarito, Vice President, has worked in the Worker's Compensation industry for nearly twenty years. She started her career at General Accident Insurance and has experience and expertise in all areas of workers compensation claims handling. In addition, she worked as a Claims Specialist for CNA and PMA. She is experienced in claims investigation, fraud investigation, litigation management, subrogation, reserving, evaluating liability and timely strategies for resolving claims. She has also observed and represented her accounts at several hearings, visited accident scenes, taken photos, written statements and has travelled the entire state of New York to conduct Claim Reviews for her accounts.
Mrs. Moscarito has focused on Second Injury recovery work during her years at Strategic Claims Solutions, and has extensive knowledge of Second Injury Fund investigation and the medical record retrieval process. She has played a key role in successful pre-trial resolution and has delivered a high level of customer service to our clients.
Karen Beseth, Manager, has worked in the Workers' Compensation industry for approximately twenty years. She was trained at Liberty Mutual Insurance Company and advanced to the position of senior claims adjuster within her first year. She led a team of adjusters in the day to day management of a large inventory of claims, in addition to regular contact with policyholders for claim reviews.
Mrs. Beseth also served as a senior claims representative for Ohio Casualty Group. In addition to handling a full Workers' Compensation case load, she acted as a field investigator in lost time and high exposure cases. She was responsible for the claims investigations from inception until a claim was settled, closed or transferred to a pension unit; including 15-8 investigations, subrogation investigations, Medicare set aside work ups and all other aspects of claim handling. She had regular contact with policy holders and conducted frequent claim reviews.
In addition, Mrs. Beseth served as a litigation specialist for Zurich American Insurance Company handling high exposure workers' compensation claims; as a claims representative for Gallagher Bassett of New York working a case load for a large self insured employer group; and Primo and Centra Law Firm as a Workers' Compensation paralegal. Mrs. Beseth has focused on Second Injury Fund claims investigations and pre-trial preparation during her years with Strategic Claims Solutions and has had a significant number of claims successfully resolved at pre-trial. She earned a bachelor's degree at the University of South Florida, and also has an Associate in Risk Management designation.